By merely shooting a person with an air taser, the attacker is "stunned" and immobilized for several minutes, with no permanent damage. The air taser is designed to target and affect the nervous system. The high voltage electrical current from the stream of shocks interrupts the tiny neurological impulses that travel through the whole body to control and direct voluntary muscle movement. When an assailant's neuromuscular system is overwhelmed by the Air Taser, instant disorientation and loss of balance occur.
The Air Taser can also be used like a regular touch stun gun. The user is thus provided with a final backup if the needlepointed probes miss the target. Should the user miss or engage a second attacker, he/she can touch the unit directly to the target and it will work like a 50,000 volt stun gun.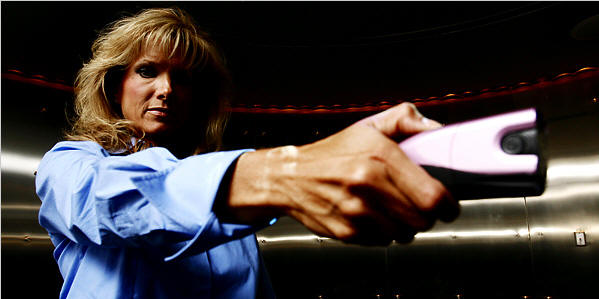 The Air Taser has been proven safe by the medical community and has undergone several practical case experiments. Anesthesiologist and specialist in medical electronics, Dr. Frank Summers, MD of St. Joseph's Hospital, Orange, California, directed tests of volunteers at St. Joseph's in 1971 and 1974. Dr. Summers stated, "...We undertook this [volunteer test] in the operating rooms at St. Joseph's Hospital. We had an assembly of cardiovascular surgeons, cardiologists... we had a real [TASER]. We tested extensively and made movies. The tests were impressive. We monitored all parameters of physiology, including electrocardiographs. The tests did not produce any lethal effects and we found that the background work that had been done did indeed verify in real-life tests."
The Air Taser is powerfully effective, even against attackers that are intoxicated from alcohol or drugs. It doesn't matter if the assailant is large, strong or macho. One shock from the Air Taser with put any criminal down --- weak, confused and totally out of it for up to 5 minutes. This will give you the time you need to escape and call the proper authorities and leave your attacker with a very bad headache. Also, should the assailant be touching you, the current from the electrical shocks will not pass to your body!
Advanced Non-Lethal, Humane Self-Defense

Effective and Easy to use in any scenario

Accepted Safe By Medical Communities

Used by over 60 Law Enforcement Agencies

50,000 volts of T-Wave Impulses of Electricity At Your Fingertips

Creates Awareness of Security and Safety

Builds Protection and Self-Confidence
You hear about it on TV and the radio, you read about it in the newspaper. It's no secret that crime is a major problem in the U.S.! In fact, every 2 seconds a crime is committed. According to FBI statistics, there is one Missing Child every 2 seconds...one Theft every 3 seconds...one Assault every 29 seconds...one Robbery every 54 seconds...one Rape every 5 minutes...one Murder every 24 minutes.
Life is precious. Take control, help prevent crime. Ready and protect yourself and your loved ones against personal attack. What has to happen? Does someone whom you love have to be violated, raped or killed? Do you yourself have to become victim of assault, battery or fatal injuries before you think about personal security? Remember, an attack can and usually does happen to everyone. Be prepared!
Air Tasers are practical and simple to use. When confronted in a dangerous situation, just aim the Air Taser and pull the trigger. The Air Taser's microprocessor is programmed to administer a 30-second Taser-Wave discharge automatically -- so you don't have to worry about how long to hold down the button.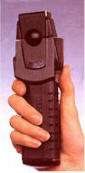 Air Tasers are small and compact, featuring an improved ergonomic hand grip, perfect for a firm hold. The slim gray casing is hard, durable, and lightweight weighing only 9 ounces. All Air Taser systems come complete with the Air Taser handle, 2 Air Cartridges, 9 Volt Battery, Practice Target, Instruction Video, Owner's Manual, Carrying Strap, and storing case.
Because of their small size, stun guns can fit easily in your purse, bag, backpack, coat or jacket, briefcase, carrying tote, glove compartment, clipped on your belt like a pager, and even in the back pocket of loose-fitting jeans.
Conveniently carry it with you whenever traveling around town, shopping, taking college classes at night, working late, leaving bars or night clubs, using pay phones, parking lots, garages, alleys, subways, bus stations, home alone, walking, jogging, running errands, deliveries, and for house wives, students, daughters, night workers, drivers, law enforcers, sales people, travelers, security guards, etc., and for anyone alone needing or wanting extra protection and peace of mind when out and about. Your stun gun will be your guardian, your protector, your defender.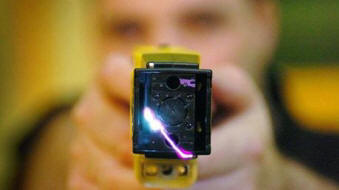 Testimonials:
21 Sep 2008
Submission by Matthew J., NJ
"I use to own a stun gun , but I recently upgraded and got your shooting Air Taser two months ago. I'm amazed at what this product can do, while providing real stopping power without lethal consequences such as hand guns. This kinda seems like a device from the future, maybe one step from Star Trek's ray guns. I used my Air Taser once in broad daylight. There was even several witnesses when some bully was harassing a friend of mine. The jerk was much bigger then my friend, about 6 foot and 3 inches. He was arguing that my friend bumped into him and was going to kick his ass. He started pushing him first then sucker punched him in the nose. I couldn't just watch and do nothing so I shouted at the thug and told him to back off. He shouted that I better just up or he'll do the same to me. I took my Air Taser out of my holster and aimed it at him, telling him I was serious and someone will call the police. He laughed and said, "What the hell is that suppose to be?". He then started kicking my friend while he was on the ground, then I shouted HEY! When the thug turned around, I shot the air taser from about 12 feet away into his chest. He immediately fell on the ground and was immobilized as the unit was sending the T-Waves into his body for the next 30 seconds. I couldn't believe how everything happened and how I had the power to stop a crime happening in front of me. Thank you Weapons Universe.
23 Aug 2009
Submission by Julie H., IL
"I got my Air Taser from you and I had to use it late one night when I was traveling alone in a neighborhood that I wasn't familiar with. I got an important page from my sister so I pulled up to use a pay phone. When I was talking to her on the phone, I noticed some guy standing close by and he was staring at me. I was feeling scared at the moment and I had a bad feeling about him from the way he was dressed and the way he looked at me. I had my air taser with me in my purse, so I slowly reached in and grabbed it. I hung up with my sister and walked back to my car. The guy then started walking up to me and asked if I had a cigarette. I told him politely that I didn't smoke and said sorry. I started opening my car door and the guy walked around the car to approach me. He then said, "Hey bitch, well how about your f--cking purse!". I did not hesitate and I immediately shot the air taser and hit him in the right shoulder. He quickly fell off balance against my car and hit the pavement hard. I waited for the 30 seconds for the Air Taser to finish shocking him, then I got in my car, reversed and took off. I never knew this kind of personal protection existed. I'm very thankful and recommend it to people I know and care about."
---
Weapons Universe™, one of the internet's first and largest dealers of Air Tasers, is committed to providing only the best products available. We are one of only a few companies authorized to sell the hi-tech, advanced shooting Air Taser™ self-defense system. Even check for yourself and compare our quality and prices. We want our customers to have the best protection available if they find themselves in a dangerous situation.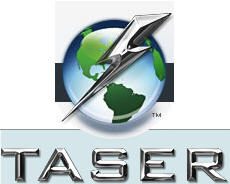 -------------------------------------------------------------------------
Click for Stun Guns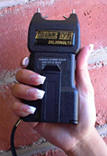 Click for Pepper Spray