Pepper spray is powerfully effective, even against all those who feel no pain, such as psychotics, drunks and drug abusers. It doesn't matter if the assailant is large, strong or macho. Getting subdued with pepper spray will put any criminal down --- helpless, struggling and totally impaired for up to a half hour or more. This will give you the time you need to escape and call the proper authorities and leave your attacker in a very agonizing dilemma.

Pepper spray will not deteriorate with age if in storage, and it does not cause any after-effects. And since it is an inflammatory agent, it doesn't work like the irritant chemicals of tear gas or mace, and isn't vaporous or will not give off a lot of fumes like tear gases. It has also proven itself as one of the absolute best deterrents against vicious dogs and for controlling wild animals. And actually, Yosemite National Park is now advising all visitors to bring pepper spray to protect themselves from bears.

The reason why pepper spray is so effective is because one of its ingredients is a natural occurring organic element derived from red hot cayenne peppers. This substance is called Oleoresin Capsicum, initialed OC for short, and is an oil that comes out of the pepper plant. Capsaicin (cap-say-a-sin) is the substance in this oil that creates the heat. These Capsaicinoids are produced by a gland in the pepper's placenta, which is the top partition just below the stem. This is also where the seeds are attached. The placenta is the main core of the pepper and is about 16 times more stronger than any other part of the plant. So pepper spray manufacturers will harvest the Capsaicin ingredient concentrated in this part.

Back in 1912, a pharmacologist named Wilbur Scoville came up with the standard for measuring the power and heat of Capsaicin. Called the Scoville Organoleptic Test, it was used to calculate the temperature of peppers used in many pharmaceutical products of the time (such as "Heet" which was used for the relief of sore muscles, arthritis pain and muscular sprains). Scoville measures the ground pepper into a mixture of sugar, water and alcohol. Then, a panel of five tasters sipped the mixture and gave it a grade; it took a majority of three to assign a value.
Today, the value is done through high technology, a computerized method called high-performance liquid chromatography. The measurement of heat for Capsaicin is called Scoville Heat Units (initialed S.H.U. for short). The pepper scale ranges from zero Scoville Heat Units for a bell pepper to 5,000 or so for a jalapeno to a whopping 200,000 - 300,000 for habaneros. When pharmaceuticals harvest the Capsaicin into a pure concentrate, it is around 15,000,000 (15 million!) Scoville Heat Units.

Currently by law, pepper spray ingredients must be processed and refined to carry no more then 15% of this concentrate, which equals to be over 2,000,000 (2 million!) Scoville Heat Units. So pepper spray manufacturers normally make their pepper sprays 10% of OC, with their more potent sprays carrying 15% OC, the highest formula allowed by law.
Protect yourself, be prepared against possible crime...
Non-Lethal, Non-toxic, and Non-flammable

Effective and Easy to use in any scenario

Accepted Safe By Medical Communities

Used by over 1,000 Law Enforcement Agencies,
including the FBI & DEA

Up to 2 million chemical Scuville Heat Units of
power at your fingertips

Creates Awareness of Security and Safety

Builds Protection and Self-Confidence
Effects of Pepper Spray in action: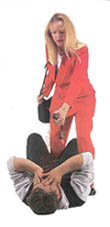 You hear about it on TV and the radio, you read about it in the newspaper. It's no secret that crime is a major problem in the U.S.! In fact, every 2 seconds a crime is committed, can you imagine? According to FBI statistics, there is one Missing Child every 2 seconds...one Theft every 3 seconds...one Assault every 29 seconds...one Robbery every 54 seconds...one Rape every 5 minutes...one Murder every 24 minutes.

Life is precious. Take control, help prevent crime. Ready and protect yourself and your loved ones against personal attack. What has to happen? Does someone whom you love have to be violated, raped or killed? Do you yourself have to become victim of assault, battery or fatal injuries before you think about personal security? Remember from proven statistics, an attack can and usually does happen to everyone. Be prepared!

Pepper spray is practical and simple to use. Spray units are small and lightweight, weighing only from 1/2 ounce up to 4 ounces. All units feature an on/off safety switch. and can be fired many times. The contents are pressured inside with a propellant, so when you press on the trigger the spray shoots out far with a range of 8 to 12 feet or more depending on unit size.
Because or their small size, pepper sprays can be worn on a keychain, fit easily in your purse, bag, backpack, coat or jacket, briefcase, carrying tote, glove compartment, clipped on your belt like a pager, and even in the back pocket of loose-fitting jeans.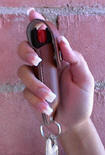 Conveniently carry it with you whenever traveling around town, shopping, taking college classes at night, working late, leaving bars or night clubs, using pay phones, parking lots, garages, alleys, subways, bus stations, home alone, walking, jogging, running errands, deliveries, and for house wives, students, daughters, night workers, drivers, law enforcers, sales people, travelers, security guards, etc., and for anyone alone needing or wanting extra protection and peace of mind when out and about. Your pepper spray will be your guardian, your protector, your defender.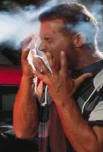 Testimonials:
July 8th, 2013
Submission by Susan M., FL
---
"Hi, my name is Susan Miller and I purchased one of your pepper sprays in June. I had to actually use it once on an ex-boyfriend that was continuously harassing me even though there was a court order for him to stay away from me. He use to stalk me so that's why I got pepper spray. I came home from work on a Monday night and he was hiding on the side of the house. I was unlocking my door when he approached me. He was obviously drunk and very angry, calling me names and saying someone should put me out of my misery. He threw and broke a glass beer bottle up against my house wall and it scared me, then he started walking up to grab me. I took my pepper spray and shot it at him from about 5 feet away. He immediately grabbed his face with both his hands and kinda spun around in a circle and fell against the wall. He started choking and gagging like he couldn't breath. He fell on the ground so I ran inside and called the police. He was taken to jail that night. I'm very thankful for your product that does what it is designed to do, protect my life!"

Aug 15th, 2014
Submission by William H., WA
"I wanted to share a story that happened to me on my birthday. I bought a pepper spray from you, it was your 2 ounce unit. I always carry it in my spray holster so it would be readily available in case I ever needed it. My friends use to make fun of me, teasing me, and some of them believed pepper spray doesn't work. I think they were confused with the original mace that came out a long time ago. Well I know for fact that it works cause it saved my life, literally. Since it was my birthday, I went out with my girlfriend for the night. After we ate at a restaurant we went to this fun bar we always liked. We stayed till about 12:30, then we went out to the parking lot to leave, there was 3 guys close by who looked at us weird. One of them whistled at my girlfriend, and called her some derogatory names. She told me to just get in the car, but they started walking up to me like they wanted to fight. Because of the situation, I already had the pepper spray hiding in my hand. One guy pushed me up against the car while another pulled out a pocket knife and demanded my wallet. I quickly sprayed the guy in the face who pushed me from about 3 feet away. The one with the knife went to strike at me but I made another spray at him that completely engulfed his whole face. The 3rd attacker was going to charge me but he hesitated for a second. He was probably 10 feet away but I shot at him with the spray and it reached him. He didn't get that much in his face, but he turned around and ran away. Anyhow, we quickly drove away, scared and frightened, but safe and unharmed."
---
Weapons-Universe.com, one of the internet's first and largest dealers of pepper sprays, is committed to providing only the best pepper sprays available. We do not sell any of the other cheaper brands that most other companies on the internet sell. Even check for yourself and compare our quality and prices. We want our customers to have the best protection available if they find themselves in a dangerous situation.
---
Click for Stun Guns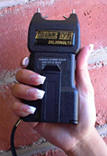 Click for Tasers