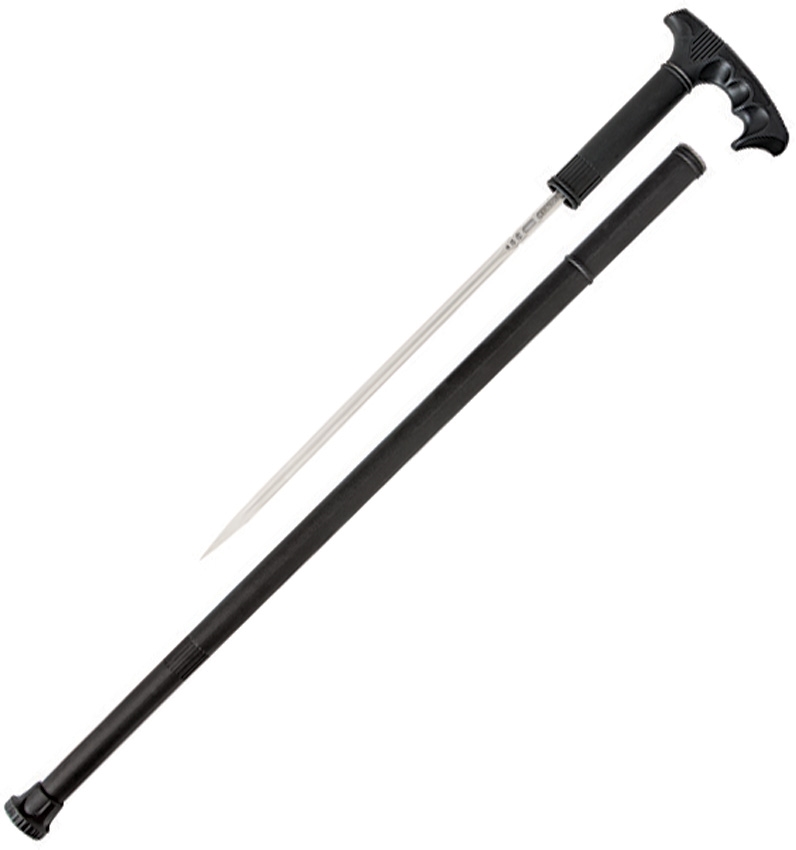 United Cutlery UC3074 Honshu Sword Cane
United cutlery uc3074 honshu sword cane. This heavy-duty sword cane is a beast when it comes to self defense! Features a lighting fast blade draw. No clumsy unlocking buttons or unscrewing needed! The unique design features a tonfa styled handle grip, the reverse of a normal walking cane. The handle is gripped under hand like a traditional asian tonfa, created a more secure non-slip hold for walking and allowing for a quick release and thrust-punch of the blade spike. The 16 3/4" blade is a solid spike of cast 2Cr13 stainless steel with a black oxide and satin finish. The cane shaft, handle, and grip are constructed of virtually indestructible fiberglass reinforced nylon, locked together with a rubber o-ring friction lock design. The large, non-slip rubber toe can be removed to allow the cane shaft to be cut shorter for a custom length to suit the individual. Instructions for shortening are included.
Measures 36 7/8" overall. 16 3/4" satin finish 2Cr13 cast stainless blade. Partial crook injection-molded nylon with fiber construction handle and shaft with rubber tip.
United Cutlery UC3074 Honshu Sword Cane
You Save $87.00 (54% OFF)