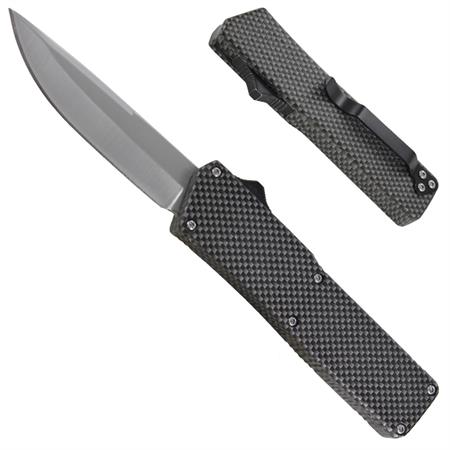 Tornado Automatic OTF Knife
Tornado Automatic OTF Knife. Most tornado damage is done by high winds, with recorded speeds exceeding 300 MPH and the flying debris propelled by these fierce winds. That's about as fast as our Tornado Fast Lightning Automatic Out The Front Knife deploys! The super sharp blade is deployed using an aluminum button is mounted on the spine of the handle making this knife slim and easy to carry. This knife comes equipped with a solid stainless steel belt clip to keep it on your side at all times. The aluminum handle has a black and silver design with a textured feel that provides a solidly firm grip.
Overall Length: 8 Inches
Blade Length: 3.5 Inches
Blade Material: Stainless Steel, Silver Finish
Handle Length: 4.5 Inches
Tornado Automatic OTF Knife
You Save $15.00 (38% OFF)
Please choose a different item.