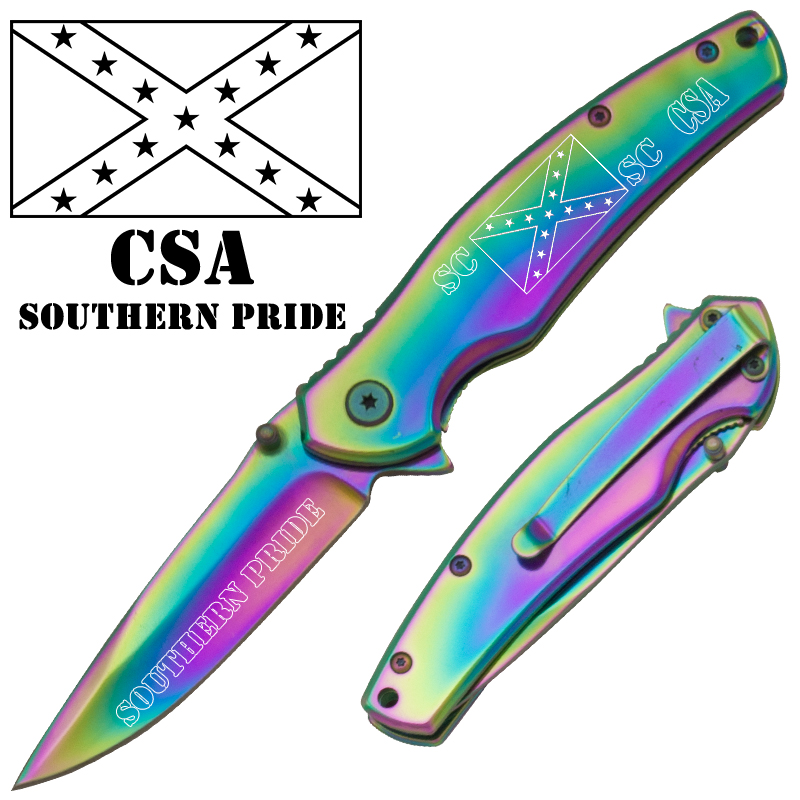 CSA Southern Pride Rainbow Titanium Spring Assisted Knife
Csa southern pride rainbow titanium spring assisted knife. Grab this intensely viable knife and take it on your next journey. Tiger-USA has the best quality surgical steel that is specifically engineered to cut and slice used for this knife. This knife blade is a little over 3 inches long and features a razor sharp edge and piercing point. The hilt is contoured for an excellent grip and features a comfortable groove for the holder's index finger. The spine of the handle features a textured surface when the blade is ejected or folded. Release the blade with ease by flicking the trigger or flipper emerging from the handle or simply use the included thumb stud. This knife can double as a neck knife as well when sliding paracord through the hole at the bottom of the hilt. Transport this knife anywhere with the securely positioned pocket clip. Get your hands on this amazing knife today and begin to win. Never leave for a trek without this blade by your side.
7.5 inch overall length
3 inch blade length - 1045 surgical engineered steel drop point design
Mirror shine rainbow titanium finish
Ambidextrous thumb stud as well as textured flipper surface on hilt to eject the lightning-fast blade
Belt clip included to turn this into an everyday carry
CSA Southern Pride Rainbow Titanium Spring Assisted Knife
Please choose a different item.