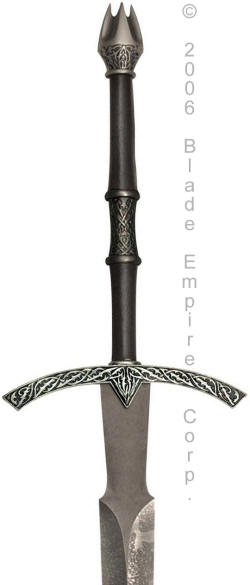 This evil and ancient sword is wielded by the Witchking, leader of the nine Ringwraiths, the indestructible and relentless shadow servants of Sauron. They were once mortal kings of men that Sauron corrupted with his Ring of Power. Also called Dark Riders or the Nazgul, they can sense when the One Ring is near and can see the Ringbearer clearly when he puts it on. The Witchking's sword was built by armourers of the dark land of Mordor, under the command of their evil master Sauron.

This is a High Quality Blade and an officially licensed reproduction from the feature film - makes an excellent collector's item and gift!

Includes a parchment certificate of authenticity.

Overall length: 54-5/8"
Blade Length: 39-3/4"
Blade Thickness: 1/4"
Blade Material: Tempered 420 J2 stainless steel
Handle material: Genuine leather-wrapped handgrip. Solid metal crossguard and pommel with antiqued metal finish and engraved detailed designs. Rat-tail tang construction.
Plaque: 10" x 14-3/4" x 3/4" wood. Woodgrain finish with silkscreened Nazgul designs.