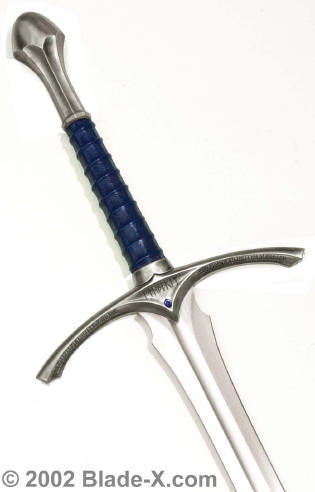 Made In Spain!

An ancient sword carried by Gandalf the Grey, who is an old, but powerful wizard and friend to Frodo Baggins. He joins Frodo and the other selected members of the "Fellowship" as they cross Middle-earth in an effort to reach Mount Doom and destroy the Ring. Glamdring, a magical sword, glows in the presence of an enemy and it serves Gandalf in his mission to aid the Fellowship of the Ring. It was made by ancient Elves, and is inscribed with runes in the Elven language that say the sword was forged for Turgon, the King of Gondolin.

This is a High Quality Blade and an officially licensed reproduction from the feature film - makes an excellent collector's item and gift!

Includes a parchment certificate of authenticity.

Overall length: 47-4/8"
Blade Length: 36"
Blade Thickness: 1/4"
Blade Material: Tempered 420 J2 stainless steel
Handle material: Solid metal crossguard and pommel with antiqued metal finish and engraved Elven runes. Genuine leather wrapped grip. Rat-tail tang construction.
Plaque: Included - 10" x 16-5/8" x 3/4" wood. Woodgrain finish with silkscreened design.