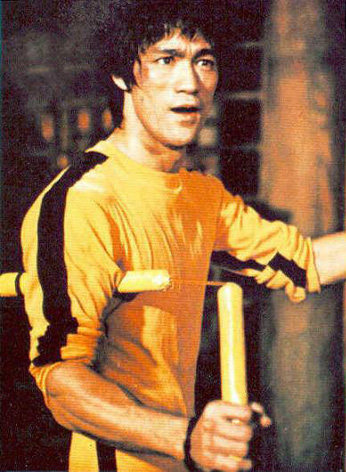 Yellow Nunchucks, Bruce Lee - "Game of Death" replica, chain version. Golden yellow wooden handles with two black stripes (rings) at the bottom ends. 12" round handles. Ball bearing swivel chain for easy spinning during competitions or workouts. These chucks are very similar to the chucks used by Bruce Lee in the movie "Game of Death", but with a chain instead of a rope.
Key Features:
Made of heavy duty hardwood.
Yellow with black stripes / rings.
12" long with 4" long chain.
Bruce Lee's "Game of Death" replica.

The Game of Death is an incomplete 1973 Hong Kong martial arts film directed, written, produced by and starring Bruce Lee, in his final film attempt. Lee died during the making of the film.

Over 100 minutes of footage was shot prior to his death, some of which was later misplaced in the Golden Harvest archives.[citation needed] The remaining footage has been released with Bruce Lee's original English and Cantonese dialogue, with John Little dubbing Bruce Lee's Hai Tien character as part of the documentary entitled Bruce Lee: A Warrior's Journey. Most of the footage which was shot is from what was to be the centerpiece of the film.