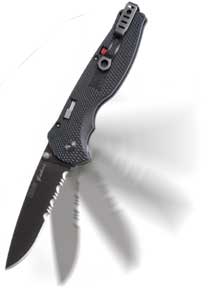 S.A.T. (SOG Assisted Technology) is the brainchild of world famous designer Spencer Frazer: "I had this feeling that I could devise a whole new technology to help open a knife blade quickly." S.A.T. allows right-handers to use their left hand equally well to open a folding knife (of course this works the same for lefties). It is also advantageous as well in case someone has an injured hand or is not adept in opening a knife easily. Gary Drake, a top defensive tactics instructor who works with SWAT teams and other special ops, states that unlike a switchblade knife, S.A.T. allows for a positive knowledge of where the knife blade is. Switchblades can sometimes get hung up in loose clothing or not open fully for a variety of reasons. This is a problem for law enforcement personnel. With S.A.T., since your finger is on the knife blade, you know if there has been a mishap and can immediately correct it. There is also the "wow" factor. We find that people who get used to S.A.T. get accustomed to its practicality and will choose it over other companies' conventional mechanisms.

All of this magic is accomplished with a simple principle. There is a constant force to open a blade and a variable force that wants to close the blade. As one opens the blade the force to propel the knife open becomes greater than the closing force and the blade will open on its own. "The beauty of this is that we have come up with several mechanisms to accomplish this," says Spencer. The Flash uses a piston lock, the Blink uses a lockback, and the Twitch uses a lockback with a pass-through lockbar. These are just a few of the mechanisms that we are working on that are covered under the multiple patents. Most of the opening springs we are using are high-tension coil springs. These springs work through the entire range of opening (180 degrees). This insures reliability.

Of particular interest is that S.A.T. has allowed us to transform the standard lockback knife, which is one of the oldest known knife locks on the planet, and take it into the 21st century. "The simplest designs are sometimes the hardest to figure out," according to Spencer, "but this is a great one." S.A.T. allows us to use locking mechanisms that are stronger and more reliable than the conventional liner locks and that are easier and safer to use. This is definitely one of the plusses of S.A.T., since a knife is only as good as its lock. Also our locks are much easier to access ambidextrously (we haven't forgotten about you lefties!).

Spencer had the foresight to develop integrated blade locking safeties in conjunction with S.A.T. The Flash Series has a safety engineered into the handle. This prevents the blade from being able to be opened and can be used for extended carry applications. When you see red on the switch...you are ready to go. The Blink and the Twitches also have this feature. A slim sliding switch on the back of the knife gives the user additional insurance. This mechanism coincidentally affords one the luxury to use the safety when the blade is in the open position. In other words...the lockback can be additionally locked (two locks in one). Awesome!

The Flash series and the Blink also incorporate a new patented bayonet clip that allows for virtually invisible carry, placing the knife deep in the pocket. This helps minimize any chance of the knife falling out and being lost. This clip is easily interchangeable from side to side (have we mentioned that we haven't forgotten about you lefties?).

SOG is known for producing high quality knife and tool products. The S.A.T. family of products is produced in the US to extremely high standards & tolerances and is warranted for life.

SOG is enjoying a lot of success lately with its innovative products, S.A.T. being just one of them. S.A.T. has currently been employed in small compact gentleman's knives as well as full size utility folders, but the trick has been to produce these innovations at mainstream prices. With suggested retail prices from $42-$62, SOG has indeed created a lot of value.

As for the future...Spencer says, "You haven't seen anything yet!"