Introducing the CRKT ExiTool. This Russ Kommer-designed seat belt cutter, window breaker, and L.E.D. flashlight belongs in every vehicle When Seconds Matter.

Every driver has a concern about being trapped in a vehicle in an accident. First, there is the worry about being unable to release a seat belt because it is jammed or if the release is inaccessible. Second, there are the difficulties of escaping a vehicle that has been submerged in water. Water pressure may make it difficult or impossible to open doors or lower windows until water has seeped in and the internal pressure is equalized.

Custom knifemaker Russ Kommer recognized the need for a simple and affordable emergency tool. We at Columbia River Knife & Tool (CRKT) call it the ExiTool.

The ExiTool fits inobtrusively onto any standard seat belt with a simple folding clasp. It includes a seat belt cutter, a tungsten carbide window breaker, and a bright L.E.D. flashlight.The seat belt cutter has been carefully designed so that is virtually impossible for even the smallest fingers to accidentally reach the blade. Its blade is made of Razor-Sharp high-carbon stainless steel, and will cut seat belts in one quick pull.

The side windows of modern vehicles are made of glass which is tempered to shatter on impact. The ExiTool features a small tungsten carbide breaker point. Just grasp the ExiTool body firmly and strike the window to break it. For best results, hit the window as close to the bottom edge as possible.

The breaker has two emergency uses. On dry land, if the vehicle's doors are jammed closed, the breaker can allow instant escape through a side window. If the vehicle is submerged, most safety experts recommend using the air supply which is trapped inside before breaking a window to avoid a sudden onrushing flow of water. However, this will vary depending on the depth of the water and the condition of the passengers. The ExiTool will allow driver or passengers to break the window instantly when it is needed.

The L.E.D. light uses one replaceable CR2032 3-Volt lithium battery. Of course, the flashlight is useful in non-emergency situations, too.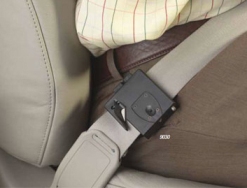 We think every vehicle should have at least one ExiTool.

Specifications
9030: Seat Belt Cutter, Window Breaker, L.E.D. Flashlight
Blade: Length: 0.50" (13 mm)
Hardened Steel: 60-61 HRC
Handle: Length: 2.75" (70 mm)
Weight: 1.6 oz. (45 g)
Battery: 3V CR2032 Lithium

About the designer:
Russ Kommer of Fargo, North Dakota, has been a commercial hunting guide since 1980. He started making knives when one of his hunter clients brought a custom knife and dressed an entire moose without sharpening it. He began working with noted Alaskan knifemaker John Shore, who took Russ into his shop and showed him how to grind. He began making his own line of knives in 1997, and his custom catalog shows a range of fixed blade knives, including Bowie and Camp Knives, Fillet Knives, Hunters, Fighters and Boot Knives, all available with a variety of exotic handles and with engraving. He is the designer of the CRKT Bear Claw, Big Eddy, hunting knives including our Pro Hunters, 30-30, and Surf 'N Turf, plus the Kommer Fulcrum, I.F.B. and ExiTool. He says, "I set out to make a quality knife that would perform and be comfortable to handle. I have found knifemaking to be my calling, and would like to thank all the people who have helped me along the way!"