Allen Elishewitz applies his considerable design skills to the development of a heavy-duty tactical fixed blade.

If you look at the web site of custom knifemaker Allen Elishewitz, you'll see that he is a wide-ranging designer, offering not only exquisite custom folders, but also timepieces and writing instruments. But Allen is also a serious martial artist, hence his interest in designing a superior fixed blade.

This knife/sheath system is the culmination of two years of work, and the finest tactical fixed blade we have ever manufactured. Because it is designed For Those Who Serve, we are calling it the Elishewitz F.T.W.S.™
Allen has carefully considered every facet of the full-tang 6.30" blade. SK 5 carbon steel was chosen for its strength and hardness. The tip is a modified spear point with full width near the tip for penetrating strength. The top of the blade features a four-inch-long flat grind with a chisel ground edge for heavy hacking and chopping tasks. The blade is black powder coated to resist corrosion and minimize reflectivity.

Likewise, the handle is carefully thought out to provide best grip under all conditions. There is a semi-hilt, plus four finger choils and a parrot beak at the end for maximum security. The injection-molded Zytel® scales feature an aggressive pyramid texture. The blade tang is taper ground to allow the handle to swell at the palm and become narrower at the end. A lanyard hole is provided.

Tactical Sheath. Our battle-proven custom black Cordura®/Zytel® sheath has an injection-molded liner. Dual belt loops are Velcro® adjustable. For maximum versatility, there are ample grommets with a length of 550 paracord included, an adjustable leg strap, plus a slotted sheath back that can mount on MOLLE gear. Two removable security handle straps with snaps give access and security, and qualify the system as jump and water operation accepted. A utility pocket with a Fastex™ buckle will carry a variety of folding knives, multipurpose tools or sharpeners.

The operator today has many fixed blades to choose from. Allen has combined their most successful elements in a fixed blade that is strong, well-balanced, secure to grip, and competitively priced. Best of all, it's a true Elishewitz.

Specifications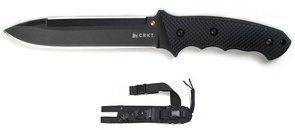 Knife:
Blade: Length: 6.30" (160 mm)
Thickness: 0.23" (5.8 mm)
Steel: SK 5, 57-58 HRC
Overall length: 11.63" (295 mm)
Weight: 10.8 oz. (306 g)
Sheath:
Material: Cordura/Zytel
Overall length: 14.370" (365 mm)
Width: 3.031" (77 mm)
Weight: 7.5 oz. (213 g)

About the Knife Designer
Allen Elishewitz is a world-renowned custom knifemaker, whose studio is in Canyon Lake, Texas. His work has been featured in many magazine articles and front covers as well as several museum-quality books. Collectors of his work include heads of state, members of royal families, members of elite special forces units and serious enthusiasts of fine craftsmanship. His early interests in knives, combined with his background in the martial arts and as a Recon Marine led him to become one of the premier tactical knifemakers. With his classical art background, this self-taught artist has designed a wide range of innovative knife models as well as luxurious pens and watches. Over the years he has been a member of the Italian Knifemakers' Guild, American Bladesmith Society and Knifemakers' Guild where he served on the Board of Directors. His work has been awarded numerous prizes throughout his career.