Inspiration for this new tactical folder came from custom knife maker Barry Dawson's neck knife design. That knife featured a slender blade, and a thick spine with a zero ground edge and a skeletonized handle. It was such a compelling concept that Cold Steel created their own line of knives based upon Barry's original design, the "Spike" series. Now they've produced a new folding variation on that theme that they call the Spectre.

The blade evokes Barry's original ideas, but is enhanced by a mirror polished surface and is styled with their own Talon point, a blade style which offers absolutely ferocious ripping, cutting and slashing power without compromising the point's ability to be used for piercing.

The Spectre is extremely light with a lean profile that fits the hand exceptionally well while offering a good solid grip. It has solid Titanium liners to give its understructure superior strength and the impressive black Micarta scales and polished Titanium bolsters give it a sophisticated exterior. It's so stunningly handsome, you'll be constantly looking for excuses to lift it out of your pocket to just to show it off.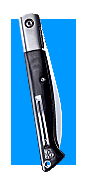 For safety and convenience the Spectre features Cold Steel's peerless leaf spring locking mechanism. Several years of testing and subtle improvements in construction have made this one of the safest and most reliable locks available at any price.

For even greater versatility and usefulness, they have outfitted the Spectre with a slim, yet stylish, pocket clip and thumb stud so you can clip it to the pocket of thin, light weight trousers or a coat pocket and open it in a flash when needed.

Features a 4.00 in. San Mai III blade and a 4.75 in. polished micarta handle. Comes complete with a pocket clip.