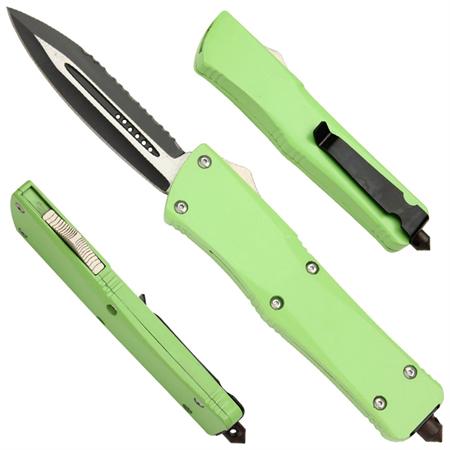 Green Monster OTF Automatic Knife
Green Monster OTF Automatic Knife. This heavy duty blade rockets into action via an exciting out-the-front mechanism that automatically ejects its blade. Double-edged with a piercing spear point tip, the 3.5 inch stainless steel blade comes razor sharp on both sides. Coming in a powder-coated black finish with silver edge, the blade is accentuated with a 2 inch fuller. Featuring an industrial strength construction, the knife has a strong and solid metal handle that can withstand wear and tear from heavy use with six hex screws and finger grips on the spine. It also sports a black pocket clip for easy access when not in use. The top of the handle also features the glass breaker for split-second emergency escapes or self-defense when the need arises. Includes pocket clip, 2 inch fuller, glass breaker.
Overall Length: 9 inches
Blade Length: 3.5 inches
Blade Material: Stainless Steel, Powder coated black finish with silver lining
Handle Length: 6 inches
Blade Style: Spear point, double-edge
Handle Material: Cast metal, Heavy duty construction
Green Monster OTF Automatic Knife
You Save $20.00 (40% OFF)
Please choose a different item.